Fully Customized Crating and Packaging Solutions in Washington DC
FULLY TAILORED SOLUTIONS
Our Washington DC team specializes in custom crating and packaging solutions. From designing and engineering a custom wooden crate to meet your item's individualized needs to determine what type of wrapping and cushioning materials will fully protect your item. Our in-house designers and custom packaging experts at Craters & Freighters Washington DC take the time to do things the right way. Don't take our word for it, our commitment is reflected in our A+ rating with the Better Business Bureau.
We are dedicated to providing the custom solution that will see your belongings through to their final destination free from damage and as smoothly as possible. Using only the best quality of materials, supplies, wood, and supports, we are true leaders in the industry. Your Craters & Freighters shipping and custom crating experts in Washington DC are prepared to go the extra mile for every customized packaging project that comes to us. 
Understanding that every customer is unique, we know better than to work with a one-size-fits-all approach. If you need a customized wooden crate built for your hazardous, heavy, oversized, or sentimental item, we know exactly what it takes to provide you with quality services and exceptional support.
We have decades of experience behind us and our customer relations and logistics teams are unmatched. Washington DC's Craters & Freighters is a company built on trust, reliability, and teamwork. We will eagerly help with your custom packaging and crating project, no matter how big or challenging. 
Do you have a packaging job that's headed overseas? No problem. We have the know-how to get your items wherever they're going internationally. We use high-quality wood that passes all country codes for easy entry at their foreign and final destination.
We Never Take the Easy Way
It takes true skill to transport precious cargo and we fully grasp that. It's for this reason that you'll never have to worry about finding your items in an oversized crate with large amounts of padding that's failing to keep your item safe. We optimize every individual tailored wooden crate we make- from the inside out. We're not here just to get the job done, we're here to get the job done right. 
Our first-time clients often become loyal customers because they recognize that our Washington DC custom crating experts never settle for good enough. Our goal is to provide the best crating and packaging service and solutions, along with incredible customer support, and that's what we deliver every time. 
We will crate and package your valuables the way we'd crate and package our own.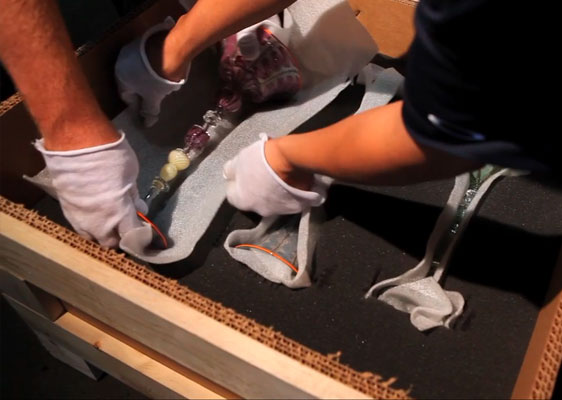 Custom Services
If you're in the market for custom packaging services in the Washington DC area, let our Craters & Freighters team help, we have it all. Offering an impressive array of packaging and crating services and using only the best materials to manage your project with efficiency and security, we won't let you down.  Contact us at 202-237-7447 to learn more about our packaging solutions, including:
Get a fast, free, no-obligation cost estimate from Craters & Freighters Washington DC.
Provide some information on your needs and we'll get back to you right away with a figure you can use in your planning.